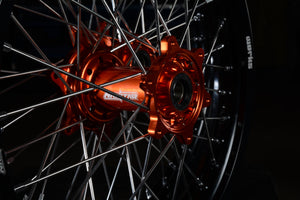 Welcome to nacstar usa
Welcome to nacstar usa
Welcome to nacstar usa
Welcome to nacstar usa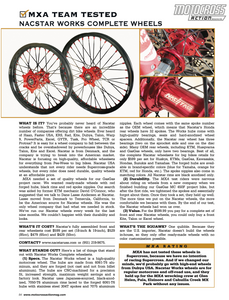 MXA Team Tested
Motocross Action Tested our Complete wheel sets - We are very happy with the results and proud to finally offer our wheel sets to the American public.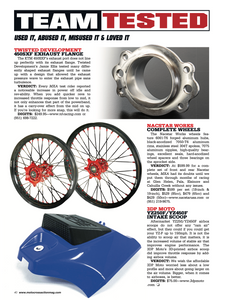 Motocross Action MC450 Factory Edition
MXA BUILDS A 2022 GASGAS MC 450F FACTORY EDITION
Motorcycles are very personal things. They may appear to be made of metal and plastic, but the real substance is hopes and dreams. Every new bike is filled with possibilities. It brings a giddiness to even the most grizzled veteran of the sport when he throws a leg over a new bike for its maiden voyage. Project bikes are no different; if getting a new bike is like hanging a Renoir over the mantel, a project bike is like a painting with the fervor of Picasso. A project bike is a blank canvas—throw paint at it however you wish. You choose every part to satisfy only one guy—you!
WHAT IN THE WORLD ARE NACSTAR WHEELS?
MXA wanted a set of quality wheels that wouldn't bust the bank. Plus, we wanted ready-made wheels with red forged hubs, black rims and red spoke nipples. Our search was aided by former KTM mechanic David O'Connor, who suggested that we talk to Lasse Andersen at NacStar. NacStar wheels was started in Denmark in 2018. Within two years of development, they came up with their Works wheels.
Nacstar uses Japanese-sourced, black-anodized 7050-T6 aluminum rims laced to forged, CNC-machined, 6061-T6 aluminum hubs with stainless steel 304T spokes and 7075 aluminum nipples. Additionally, the NacStar rear wheel has three bearings (two on the sprocket side and one on the disc side). KTM's OEM rear wheels only have two bearings. Best of all, the complete NacStar wheelsets retail for only $599 per set for Husky, KTM, GasGas, Kawasaki, Honda, Suzuki and Yamaha. The forged hubs are available in black, blue, gold, orange, green and red (the spoke nipples can be ordered in the same colors).
The MXA test riders were nervous to be riding on new wheels from a new company, but after the first ride we tightened the spokes and essentially forgot about them. Once they took a set, they held up well. We checked them on race-day morning and never suffered a single problem.